A liberal is...."Ten degrees to the left of center in good times. Ten degrees to the right of center if it effects them personally"...Phil Ochs

Welcome to Carrboro, North Carolina..... A liberal, bike friendly(?) town, separate but connected to Chapel Hill, a thriving University town whose small size is deceptive for the amount of activities available. As part of the larger Triangle area(Raleigh-Durham and Chapel Hill) there are more activities and events than anyone could possible attend. Check out the local free weekly events paper(The Independent), to confirm this!
Carroboro, and to some degree, the Triangle is an oasis in the midst of a conservative desert. NC has not voted for a democratic President in ages and Carrboro has not voted for a Republican in just as long.... so that should help to put things in perspective!
This guide is intended to introduce you to Carrboro and point out both the good and the bad. I'm not a Chamber of Commerce or Town alderman trying to convince people or businesses to relocate here. In fact, it's just the opposite, I'm trying to slow down the inflow of people here. If it keeps growing at the rate it is, you might be better off moving to Long Island, NY, king of the sprawling suburbian expansion.
For some reason Carrboro keeps getting named to the list of "the top 10 places in the US to live", and maybe it is(although I find it hard to believe that there are only 10 top ten places to live in America!), but it is not perfect. More importantly, if it continues to be recognized in the top 10, it will become overpopulated with too much traffic and all the other problems that occur when small towns grow too fast. I think we are on the verge of suburban sprawl, as shopping centers, strip malls, housing developements and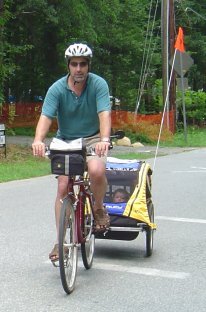 apartment complexes spring up at a surprisingly quick rate.
The Carrboro Town government proclaims to be progressive and in many cases they are, but maybe we're fighting a losing battle as this little enclave becomes a more desirable place to live and the value of property shoots up astonomically!
If you look around we have more than our share of SUV's, proudly displaying their array of bumper stickers pronoucing their support of our troops, while condeming Bush and his far right politics.
I spend my "spare" time exploring Carrboro on bicycle with my daughter hitched behind me on her Burley D'lite Trailer, so check back often as we are continuously updating this site.
Aging in Stride 5K Run/Walk
Saturday, September 6, 2008 - 10:00 AM - UNC Bell Tower The Aging in Stride 5K benefits the Frail Elderly Fund at the Orange County Department on Aging which serves our community by purchasing services or supplies for frail seniors who have exhausted all other resources. This event is organized by the UNC School of Pharmacy Geriatric Interest Group. Please come out to walk, run, or volunteer. Entry fees are as follows:
Pre-registration (til August 27, 2008)
Ages 55 and Under: $17
Ages 55+: $7
Late Registration: $22 all ages
All participants will receive a t-shirt and a chance to win prizes. Please contact kimharr@email.unc.edu or visit http://studentorgs.unc.edu/senate/ for an entry form.