The Burley D'lite Trailer
In the summer of 2005 we had moved into town and wanted bicycling to become our main mode of transportation. I needed something to put my daughter in and thought that a seat mounted on the bike would be the best option, so off I went to The Clean Machine in
Carrboro to get prices.
I spoke with one of the employees named Chris and he gave me some pricing information for the seats which seemed very affordable. While walking in, I noticed a trailer on display in the front window. I asked Chris about it and he raved that it was the only way to go. He had a child about 2 years old and used it himself, so it wasn't just a sales pitch to get me to buy something more expensive!
After talking to Chris and reading up on the trailer I came to the conclusion that it was the only way to go. There were so many advantages... it is bigger, so cars will see you better..... my daughter can sleep in it while it's parked somewhere(can you imagine her having to balance on a bicycle seat!).... wiping out with her in a bicycle seat would probably do immense damage to her arms and/or legs and anything else that's hanging out from the side of the seat.... The Burley has trunk space where I can keep her diaper bag, groceries and many other things.....
The price tag seemed a little hefty so I thought I would go to ebay to try to save some money. After watching the sales for a couple of week, I realized that they were going for $300(and new one was about $430) plus shipping. Some of them were 6 years older or more and with new innovations coming up every year I would be saving a little over $100 and not know what I'm getting. On the other hand, if I can use this one for 3 years and sell it for $300, I would be "renting" it for $40 year.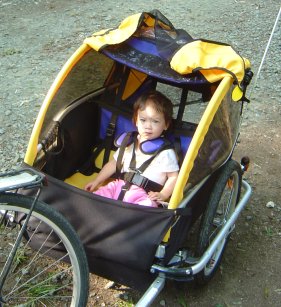 I had also looked at other trailers that were less expensive as a way of saving money but they did not seem as rugged as the Burley(actually some of them were downright flimsy!). They cost about $200 less, but in the words of a friend who bought a cheap one and returned it after one trip, "I'm not going to put my son's life in the hands of that flimsy thing!".
The decision being made I went to order one from The Clean Machine. I placed the order and was told that it would be 3 weeks. It ended up being 9 weeks(These trailers are IN DEMAND- thus the high ebay prices!) before I recieved it.
I had a quick set up lesson, put it in my truck and took it home.
The next step was to hook it up to my bike and then the biggest step- put my daughter in it and hope that she likes it! I had visions of her going into screaming fits as I set her in the seat, but it was all for naught- She loves it and now we bicycle all over town and rarely use the car. With the price of gas, the trailer will probably pay for itself in a year or two with the money we saved on gas!
.