Weaver Street Market-Wine Tasting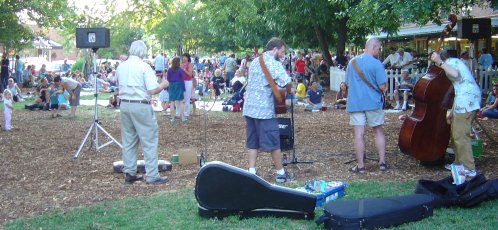 Every Thursday from May to September is Wine Tasting at Weaver Street. The event includes live music, samples of wine and beer, barbeque dinner cooked by a local non-profit organization with all profits going to that non-profit and hundreds of people out to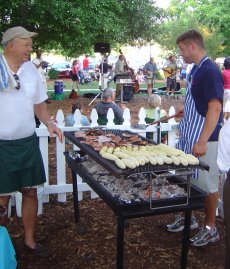 enjoy music and socializing with their neighbors. When in full swing, all tables are taken, the "grass" is covered with people spreading out on their blankets, as well as more children than you count and lots of dogs.
The music features one band a week playing all types of music from Ol' Time, to Blues, rock, reggae, international and folk. Most bands are pretty good and some are great, the only limiting factor being the sound mixing that is usually done by the band without a sound man. If you can't hear it as well as you'd like or it sounds unbalanced, most bands will be happy to hear your thoughts(if they're playing with monitors and/or are close to their speakers they'll sound a lot better to themselves than they do to you!).
Like all popular events, you'll want to get there early if you want to sit down and eat.
There are a few problems that may not bother you, but you may want to be aware. There are a lot of dogs. Sometimes barking dogs, sometimes dogs snarling at each other, sometimes dogs taking a piss on the ground around the tables(or your blanket), sometimes dogs sitting on the tables. I love dogs, but sometimes they can be a little overwhelming and I don't think that employees are asked to keep on eye out for dog infractions(I'm actually surprised that the health department allows the dogs on and around the tables).
IMPORTANT: Rain or threat of rain will result in Wine Tasting being cancelled. You may want to call in advance to find out!
The other problem is smoking. Even though there are "no smoking" signs on each of the picnic tables, people do tend to smoke. I complained and was told that the staff is too busy to police the area but they would love it if we would come and tell them if someone was smoking. I told them that someone was smoking and the WS employee wanted me to come with her when she told them to stop. Realizing that it made me look like a weakling snitch if I stood there as she told them not to smoke, I told her not to worry about it. I then asked them if they would mind not smoking on my own.(People are usually very good about not smoking when you ask them not to, but I don't really feel that the customers should have to do the policing!).
Parking is also a bit of a problem, but there are plenty of lots around town and many businesses will support Weaver Street and the community by allowing use of their parking lots after business hours. But if you see a sign that vaguely sounds like they don't want you to park there, but careful- A $110 tow job will make your wine tasting experience a very expensive one!
All in all Weaver Street's Wine Tasting is a fun evening out with a family atmosphere and nice way to get ready for the weekend!
Back to Weaver Street Market Intro Page