Weaver Street Market-Truckload Sale
Every year Weaver Street Market holds a truckload sale at which they order pallets of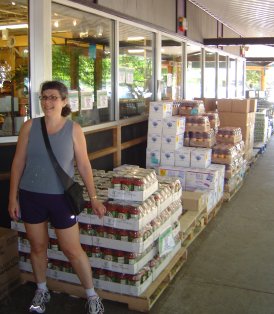 products that are commonly used by it's members and sells them by the case at prices that are discounted from about 25%-50%(or sometimes more). The prices can't be beat if you're looking for a years supply of an item. Every year the items change and some years they offer a better selection then others. In 2006 they appeared to be very heavy on the non-alcoholic drinks with 16 of the 32 items offered being juice, soy milk, water and Spritzers. If you add the 3 different wines and beer almost 2/3 of the items were drinks.
I would be happier if there were more foods offered as the real savings would carry through for a year as a case of most foods will certainly be used over a longer period of time than the drinks which are probably a 1-2 month supply at the most. The Laundry detergent was probably the best deal, coming out to about $23 for a year's supply of detergent.
The dates in 2006 were June 2-4, but for the following years don't worry if you don't have a date now. Once the dates are set, there are plenty of announcements and advertisements and when the walkway to the main entrance is lined with pallets loaded with cases, it's a sure sign that the Truckload sale is only a day or two away.

| | | |
| --- | --- | --- |
| 2006 Truckload Sale Items | | Discount off retail |
| BEER BAVARIA 12 PACK | | 25% |
| EMERGEN C BOX | | 55% |
| JUICE- CAPE COD CRANBERRY | | 50% |
| LAUNDRY DETERGENT 7TH GENERATION | | 52% |
| FRESH MANGO | | 33% |
| RICE MILK DREAM | | 46% |
| SOY MILK | | 46% |
| PASTA FUSILLI | | 50% |
| PASTA SAUCE MARINARA NEWMAN | | 44% |
| POLAND SPRING WATER | | 47% |
| PELLEGRINO SPARKLIJNG WATER | | 47% |
| SPRITZER KNUDSEN | | 55% |
| SODA SAN PELLEGRINO | | 56% |
| TOILET PAPER 7TH GENERATION | | 28% |
| DICED TOMATOES BIONATURAL | | 50% |
| TUNA | | 38% |
| WINE-SALMON CREEK | | 37% |
| WEAVER STREET BOTTLED WATER | | 44% |
Back to Weaver Street Market Intro Page