Fernando Linhares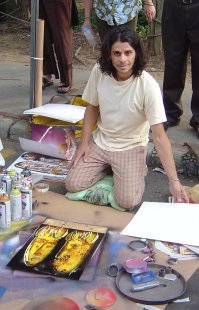 I met Fernando and his wife in 2005 at Weaver Street Market mainly because he had a son about the same age as my daughter and they were one of the few couples who didn't rush home at 8pm to put their infant to bed. Thus we spent many nights chasing our children around the grass until they fell asleep and talking, eating and drinking with more focus once they did.
Fernando is from Brazil but has traveled extensively through Europe, to India and through the US. He's lived in Michigan, Philidelphia, Washington DC, Carrboro and now he's in Los Angeles, as his wife took her residency at UCLA.
His artwork is mostly abstract but he explores a number of different mediums. One of his more interesting is the spray cans where he uses different colors over each other while scratching and etching in the still wet paint(The Musician on this page is a spray can painting). He also paints in oils and acrylic.
He's incredibly prolific and versatile so there are a lot of choices. Because his work is so versatile, it's hard for anyone to say that they like or hate his work, you really have to look at all the styles and the chances are that anyone will find a style of his that they like as well as another style they don't like.
Below is a sample of some of his other works....