2nd Friday Art Walk
The 2nd Friday Art Walk is a great way to start a Friday evening. From 6-9pm the local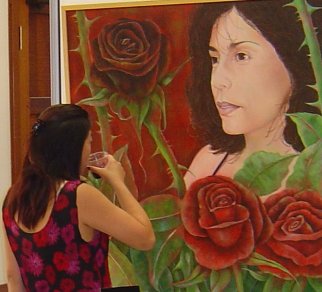 galleries keep their doors open for the people who wander through Carrboro and stop in to see what new art is being displayed. In the warm weather the stroll through town is leisurely and enjoyable, in the colder months, the galleries become a welcome refuge from the cold(and are less crowded as only the diehard art walkers will battle the Arctic weather in the winter months!).
I personally stick to the galleries that you can walk to, as I enjoy walking. If I spend a little time in each gallery, looking at the art and socializing with friends who I run into, by the time I've left the last gallery it's close to 9pm. I suppose I could move faster through the galleries and then get in my car and drive to the other galleries, but then it wouldn't be an art walk.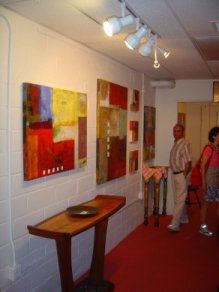 Until 2006, the Crown Jewel of the Art Walk was Bleeker Street Gallery, built almost single-handedly by Ted Bleeker. The gallery, designed by Ted was 2 stories with artists renting studio space and displaying their works upstairs, Ted's workshop was downstairs and the front room was used as the reception hall and exhibition room for the artist(s) being promoted for that given month. Unfortunately,Ted passed away and the building was sold to Fleet Feet who plan to turn the upstairs into office space and will use the lower floor entrance as a gallery.
As a matter of habit we've always found it easier to park at Weaver Street Market and either walk east or west on Weaver St and then back in the opposite direction to the galleries on the opposite end of Weaver Street. Once you've visited the galleries and if you want to eat something, there are restaurants all along the way that you can stop at, although many of the galleries offer light snacks and drinks.
Carrboro Galleries

Archer Graphics

The Arts Center

Carrboro Century Center

DeWitt Law

NC Crafts Gallery

Open Eye Cafe

Padgett Station

Sizl Gallery

Thimble Pleasures

Wootini

Bleeker Street

Outlying Galleries

410 Lobby & Gallery of Southern Village

Ackland Art Museum

Animation and Fine Art

Caffe Driade

Studio 91 Fine Art Gallery

Turning Point Gallery

Tyndall Galleries