Hillsborough's Hog Day 2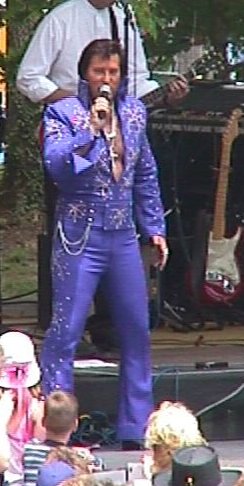 Just past the food stands was the beginning of the informational booths(Skoan, banks, drinking water, rape crisis, Festival for the Eno) and.... balloons!
Finally with balloon in hand, we had one more thing to do... Find the Antique Car Show. It wasn't where it had been last time, so I began to wonder if it had been discontinued. That would have been a shame because I remember it having a lot of great cars!
As we were walking around the literature booth area, I saw a sign that said "Antique Car Show" pointing up the road. Ah...we were safe- there may not have been an Elvis at this fair, but there were antique cars.
All the way in the back we found the cars. I probably should have couldn't them so I could be more accurate, but there were probably fifty or sixty of them. All were in mint condition, although some were stock and some were souped up. But more importantly, they were all in the shade!
We strolled through and looked at the cars quickly and then decided that it was time to head home and get some A/C(or at least get into the car!
| | |
| --- | --- |
| Four of the antique cars! | |
All in all, Hog Day was a pretty decent fair and a fun way to spend a few hours. I think I'll go again next year, more prepared(mentally and physically for the heat!) and spend more time slowly walking through the grounds and enjoying it!(But I'll probably try to get there anytime but in the middle of the day!