Carrboro Farmer's Market
The Carrboro Farmers Market is open on Wednesdays and Saturdays from March through November, rain or shine. It's a great place to get vegetables, eggs, meats crafts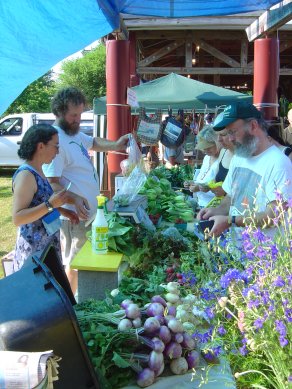 and many other items that are grown, raised or put together locally. Located on the Town Hall Commons it operates in rain and shine. Selection and comfort are at a premium in the early hours during the hot months as only about half of the booths are covered. Once your out in the late morning sun, it can get very hot!
In the winter/early Spring it can be very cool in the morning, but also less crowded as a lot of people wait for it wo warm up before going.
We will often combine a walk, breakfast and the Farmer's Market by parking at Weaver Street, eating breakfast and then walking up Weaver Street to the market. There is parking at the Town Hall and the parking lot across the street(next to the car wash), but if it's full you have to drive around looking for somewhere else to park. We prefer to walk.
IMPORTANT: Just because it's a farmer's market, don't assume that the plants and food are organic, pesticide free, hormone free etc.... Ask your local farmer or else look for the booth's that have signs saying they are!
The Wednesday market is not quite as large as Saturday and the number of farmers participating thins out in the early spring and late fall.
If you have children there is a great little playground at the back of the grounds. It is fenced in and has a soft floor so there is no running around chasing your child or worrying about them falling! If you go with a couple of people, one can go to the playground and hang out with the kids while the other can shop.
For those of you who want to participate in the market there is a board and a review process you must go through as all products and participants must be approved. I've known some people who have tried to get into the market(as well as people who are in the market) and sometimes the process and the approvals and disapprovals seem a little less than logical.
For shoppers, or those just browsing, it's a fun way to start your Saturday morning.